About our Marshmallows
So why Marshmallows?
About our Marshmallows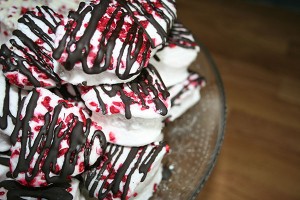 Our gourmet, handmade marshmallows are naturally free from fat, egg, gluten and dairy products. Produced by artisans, our hand-cut marshmallows contain fresh fruit and/or only the best quality Fair-Trade chocolate. Unlike the taste and texture of the traditional marshmallow, the quality and natural ingredients in our gourmet mallows bring a unique taste experience to any special event be it wedding, soirée, dinner party or just a treat for you and those for whom you care.
But, be warned, once tasted there's no going back. To quote a mum attending a children's party, on sampling a variety of Sicilian Lemon and Rippled Raspberry platters she exclaimed, "Oh how wonderful, a dessert for grown-ups". There has been a delicious excitement about our marshmallows being for grown-ups ever since.
We have some signature flavours that are available all year round with Caramel and Salted Peanut being one of our best sellers. Lemon Meringue happens to be one of my personal favourites because I love the strong lemon flavour that cuts through the scrumptious sweetness of the mallow meringue.
With the launch of our new flavours that include Banoffee Buzz, Classic Coconut and Luxury Chocolate Orange we have again ensured that our premier flavoured marshmallows taste as good as they look. But of course you will need to try them for yourself!
We ensure each and every mallow passes through our quality control for taste, texture and aesthetic satisfaction. Quality and natural ingredients are at the core of our philosophy and the result is something special - a superior marshmallow that has been lovingly created especially for you.
As a delighted customer said, "They taste just like happiness"
How lovely -  I'll have a double helping please!
Celebrating the joining of two people deserves something as unique and special as you are
At Grown Up Marshmallows we understand that you want something special that not only looks great, tastes great, but also leaves a great memory for years to come.
Our bespoke, premier, flavoured marshmallows will give your special occasion the wow factor!
We like to speak with all of our customers to ensure they receive exactly what they require. Quality and good service are as important to us as they are to you.
Wedding Occasions
Your celebration occasion will certainly have the 'wow factor' with our gluten, fat and dairy free mallows. As-well-as premier flavoured marshmallow platters; we offer towering treats of over 120 mallows themed to match your special day. With over 15 flavours to choose from, we are sure to have your favourite. The list of flavours for you to choose from are on the homepage listings of the mallow collection.
Spoilt for choice? Why not have a variety of flavours with something different on every tier! Pleasure Pyramids start from £149.90 with multi-buy specials available.
Wedding Favours
Wedding favours start from as little as £1.75 and can correspond with the theme of your choice. Each favour is hand cut especially for you in either a cube or heart shape that is then lovingly hand-tied with the colour ribbon of your choice.
A selection of our designs are in the wedding favours gallery and the list of flavours for you to choose from are on the shop listings of the mallow collection.
Stickers are also available to show the name of you, your partner and the date of your special celebration.
Speech Specials
It is always nice to let people know how important they are to you.
Our speech specials are the perfect gift to let your mother-in-law, father-in-law, best man, or maid of honour know just how grateful you are for their support.
Variety boxes start from £6.50 and contain a 6 hand selected mallow combination chosen by you. Gift jars contain your mallow selection and start from £14.90 per jar.
Multi-buy specials are available on all Speech Specials.
Other gifts available
Remember, whether you choose platters, pyramids or chocolate drizzled double raspberry hearts your day is important to us.
The list of flavours for you to choose from are on the shop listings of the mallow collection.
Please call or mail one of our confectioners to discuss your specific requirements or general enquiries.
We look forward to hearing from you...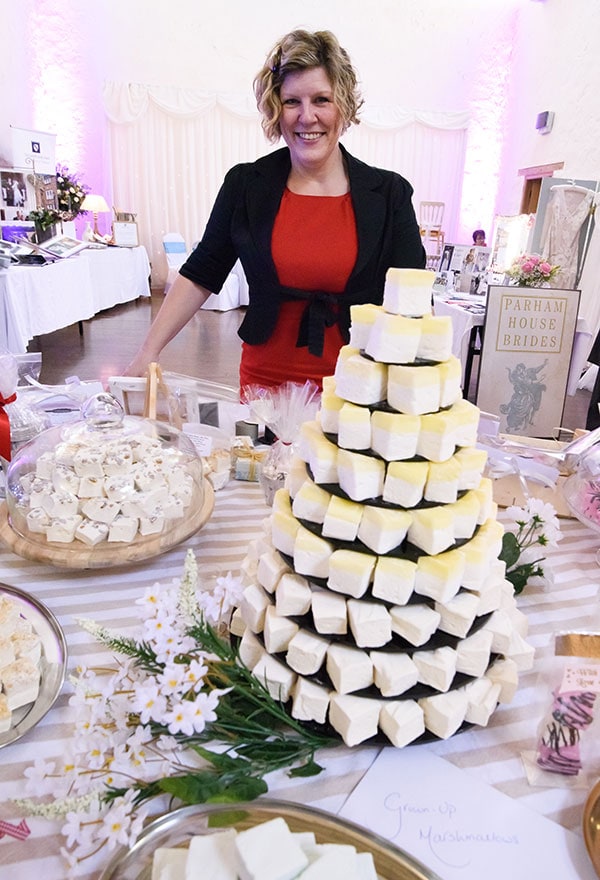 Grown Up Marshmallows makes your selection fresh to order. Therefore, please give them time to arrive at your door.
Each bag contains a minimum of 80 grams of handmade, freshly prepared marshmallows with a best before life of up to 12 weeks.
Because our mallows are made to order, please allow approximately two weeks for delivery.
Just select your favourite flavours from the shop, the product you would like your marshmallows to be, place your order and our gourmet confectioners will hand craft your order especially for you.
Delivery is free for mallow treat bag orders over £18 within the UK
If you would like to request something not seen on the website, please do not hesitate to contact us.
Just send a brief description of what you require and we will do our best to have our artisans create your bespoke request that is as individual as you are.
If you prefer please call 07471655022 and leave a message or click an icon below and visit our Facebook, Twitter, and Instagram pages!
If our confectioners are baking we will get back to you as soon as possible.